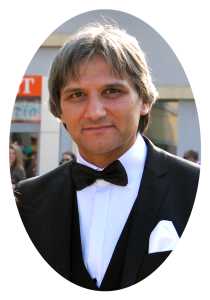 Osman BEDEL
ELT Publishing Editor & Teacher Trainer
born in 1976 in Razgrad, Bulgaria
Title
Freelance ELT Publishing Editor & Teacher Trainer – Istanbul, Turkey
Education & qualifications
PhD in Linguistics 2014 – Moldova State University Chisinau, Moldova
MA in Applied Linguistics 2009 – 2011 Sofia University "St. Kliment Ohridski" Sofia, Bulgaria
BA in English Language Teaching 1993 – 1997 Istanbul University Istanbul, Turkey
Work experience
2016 – present Kemerburgaz University Istanbul – Turkey – Prep School Level Coordinator – Responsible for planning, organization and implementation of the curriculum; supervising attendance and lesson plans to meet policies and procedures; discussing the students' progress with both students and their instructors and provide assessments and reports.
2015 – present Istanbul – Turkey – ELT Publishing Editor & Teacher Trainer – Responsible for creating and editing style and content of the ELT publications; contributing to the conceptualization of new and revised content, working with a project team on continuous improvement of ELT publications; providing appropriate support and training for English Teachers using the associated publications.
2014 – 2015 Orizont Schools Chisinau, Moldova – Deputy Head & English Teacher – assisting the head teacher and governing body in ensuring high quality education for all pupils, continuous school improvement and ongoing staff development; taking responsibility for leading and managing significant aspects of the school; undertaking, in the absence of the head teacher, the professional duties of the head teacher.
2006 – 2014 Drujba Schools Sofia, Bulgaria – Head of English Department – managing teaching resources, organizing and managing extra-curricular activities, collaborating with students, parents, colleagues and teaching authorities, utilizing tailored teaching methods to satisfy different requirements for 3 schools and 1 language-center in Bulgaria consisting of more than 400 students and 15 native and foreign English teachers.
1999 – 2006 Litsey-internat N2 & Litsey-internat N7 Kazan, Russia – Head of English Department – planning and preparation, curriculum development, program evaluation, resource management, facilitating meetings, promoting collegial sharing, communicating information, reporting for 8 schools around Kazan consisting of approximately 1500 students and 35 teachers.
1996 – 1999 Dilfem Language Center Istanbul, Turkey – Teacher of English – teaching English to students studying at various universities, conduct EFL classes for beginner through advanced levels and exam preparation courses for high-school graduates, organize summer schools for primary students.
Additional experience Conferences and Seminars attended:
Other skills & qualifications
Personal profile
An accomplished English Teacher with in excess of 14 years of demonstrated success in teaching, motivating, and directing students while maintaining high interest and achievement in ELT. A skilled communicator who can effectively articulate and justify his practices, and is able to interact with diverse populations of students at varying levels of ability; maintaining collaboration with students, parents and teaching professionals.
Interests and activities
Mainly interested in second language acquisition, focusing on analyzing influence of student-interactions in Communicative Language Teaching. Seeks to develop professionalism and competence in teaching of English as a foreign language and in use of English as a medium of instruction in schools. In addition to teaching within the institutions, aims to serve community through:
* consultancy work for schools and education departments,
* support programs in schools,
* links with other institutions and international school staff and students,
* seminars for teachers from a wide variety of backgrounds,
* developing resource centers for Language Teachers and
* academic support and supervision of students studying for higher degrees.
---
E-mail: osmanbedel@hotmail.com